WHAT IS DEMOLAY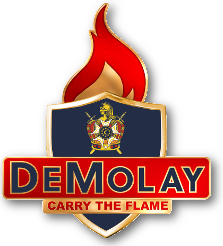 DeMolay is an organization dedicated to preparing young men to lead successful, happy, and productive lives. Basing its approach on timeless principles and practical, hands-on experience, DeMolay opens doors for young men aged 12 to 21 by developing the civic awareness, personal responsibility and leadership skills so vitally needed in society today. DeMolay combines this serious mission with a fun approach that builds important bonds of friendship among members in more than 1,000 chapters worldwide.
The Order of DeMolay was founded in 1919, in Kansas City, Missouri, by a young man named Frank S. Land. Land was a community leader who, at the age of 28, already had a successful business career as a restaurateur behind him.
DeMolay alumni include Walt Disney, John Wayne, Walter Cronkite, football Hall-of-Famer Fran Tarkenton, legendary Nebraska football coach Tom Osborne, news anchor David Goodnow and many others. Each has spoken eloquently of the life-changing benefit gained from their involvement in DeMolay.
Is DeMolay a religious organization? No. Among the requirements for membership in DeMolay is the belief in a Supreme Being, but not one of any particular doctrine, sect, or denomination. A young man's religious convictions are his own. DeMolay's members include Christians, Jews, Hindus, Buddhists, and members of many other religious groups. DeMolay does not involve itself in religious discussions. It merely recognizes the importance of faith in the lives of young men. The virtue of Reverence for Sacred Things seeks to remind our members to rely upon, and use, faith in their own personal lives.